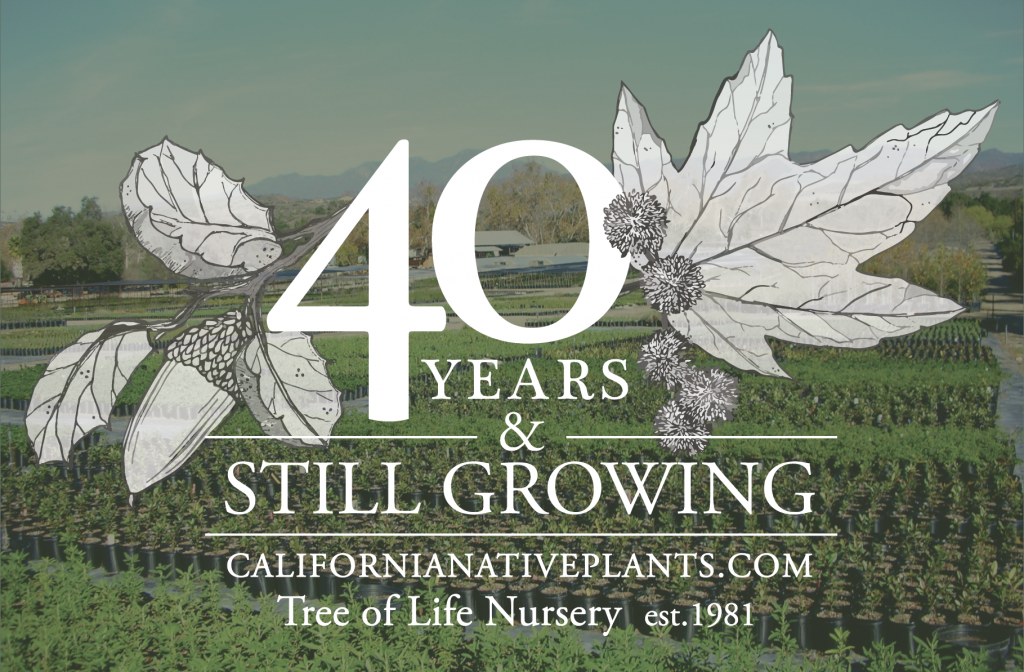 From all your friends at Tree of Life:
On this spring equinox, we want to send a big thank you to the entire community of native plant people for the opportunities we've had to work together for a long time. This year (2021) we celebrate 40 years providing high quality California native plants to our region. Using our basic dirt farmer math, that's 24 million new plants in the landscape… plus their progeny, for these plants often naturalize. That's a lot of habitat, but there's so much more to do. Keep planting natives everyone!
After 40 years growing plants we have a lot of stories to share. Join us each month throughout the next year as we share our culture and history with you in a series of essays. Make sure to join our monthly newsletter so you don't miss out.
The story of Tree of Life Nursery is really a story of people and passion. And plants. California native plants and the land we occupy for growing, plus our team of friends and colleagues, including our loyal customers. 2021 marks the official 40-year anniversary of the partnership between the owners Jeff Bohn and Mike Evans. Mike founded the original company under the name Tree of Life Nursery and Landscape in 1977. Through a mutual friend and native plant expert, Mr. Art Tyree, (who learned from Mr. Theodore Payne himself) Jeff and Mike met in 1979 and discovered they had a lot in common; beach culture, surfing, the outdoor life, functional landscapes, sustainable gardens, landscape design, nursery experience, and a love for California native plants. Their story of building a nursery, a business, and a lifestyle will be told in a series of monthly essays to be published through 2021.
Essay #1, March 2021 – The Land We Grow On by Mike Evans
In 1979 Jeff Bohn and I joined up to work together in my original San Juan Capistrano design-build landscape company. We were young. In those early days we had to buy native plants from Bay Area nurseries for all our jobs. We knew we needed to start a nursery so we could grow our own natives but to do so we would need land.
At its onset, an investor and friend who believed in us, Mr. Jerry Neely, offered Tree of Life a place to build a propagation nursery. He added financial backing and more, as he took it on himself to tutor us in the ways of business. He got us started on his San Juan Capistrano avocado ranch. We built greenhouses and growing beds on a hillside, (not ideal), and broke ground, partnering on a native plant nursery called Tree of Life Nursery (TOLN). Mr. Neely stayed involved for around three years, then he turned us loose to go it alone. We formalized a partnership, and never looked back. That was 1981 and we were outgrowing the space on our fledgeling hillside nursery.
We moved from the Neely Ranch to a 4-acre leasehold on a ranch owned by Mr. Jean Lacouague. It was a handshake agreement. He believed in us as well, cleared some bottom land on his 90 acre historic citrus orchard and collected our monthly rent. From Jean and his wife Marie, his son Danny and indeed the whole family, including three daughters, we learned the value of hard work, a man's word, and the priorities of family. Call it inspiration. This Basque family had been part of San Juan Capistrano's earliest days and we were privileged to know them and work with them. In fact, several years ago I was honored to speak a eulogy at the memorial service for Mr. Jean Lacouague. We remain close with the family to this day.
The nursery was still growing so we needed more space. We sought to lease land on the Rancho Mission Viejo (RMV), just up canyon from the Lacouague Ranch. If not for yet another two people who really believed in us, we would have never landed on the lovely site we occupy today. We owe a great debt of thanks to Mrs. Donna O'Neill and Mr. Richard O'Neill who in 1985 offered us 14 acres, (and later an additional 22) on their private thoroughbred farm. Many people agree it is one of the loveliest parcels on the entire 52,000 acre historic Rancho Mission Viejo.
Mrs. O'Neill had kept a world class garden at their ranch house, which included an extensive native plant section. Both Mr. and Mrs. O'Neill have passed on. I was honored to speak a eulogy for Mrs. O'Neill, and a few years later at Mr. O'Neill's passing (2009), I was invited by Mr. Tony Moiso, to be a pallbearer at the funeral. As Mr. O' Neill's heir and nephew, Mr. Moiso is now the family patriarch, though for many years before his uncle's passing, Mr. Moiso had led the company and Ranch, serving as RMV Chairman and Chief Executive Officer. He and his entire team have always believed in us as well. Our close relationship with the family, company, and Ranch has been a key factor to our success on this site for the last 36 years. We are grateful.
Interestingly, the original Spanish land grant was called "Rancho Santa Margarita y Las Flores or La Paz," and included the present-day RMV parcel. It had first been granted to Don Pio Pico and totaled around 250,000 acres. Pio Pico was actually the last governor of old Mexican California and today much of the original grant is the immense Marine base, Camp Pendleton. But these details make for another story. The fact is that Tree of Life Nursery is enveloped by both natural beauty and fascinating history, so we named our adobe style plant store 'Casa La Paz' in recognition.
Of note, Mr. O'Neill's mother, Margarita "Daisy" (1879-1981) was a family matriarch who retains her acclaim and renown to this day for having stated a land ethic by which the RMV still operates; "Take care of the land and the land will take care of you." We have adopted this truth at TOLN and endeavor to act as stewards of this amazing piece of ground, even though we have no title.
In fact, Tree of Life has never owned land but we recognize these three ranchers and landowners who have invited us to operate our business on their places. They have played important roles in our very existence. We consider it a great blessing to have held the simple title of "tenant" for our entire history, causing us to focus only on growing plants, never to be distracted by the inevitable temptations of lucrative real estate deals.
An additional note about the land, regardless of its ownership or use: this Tree of Life Nursery parcel is special. Nested on a deep alluvial deposit at the confluence of three creeks, and only 10 miles from the sea, this land carries a narrative as primal and original as creation itself.
A few old timers have told me of an artesian well, very close to the present driveway entrance at Tree of Life. I am certain that before that well, there had been a spring, because even now the plants at our gate grow exceptionally lush with no irrigation. Without fail, this perennial wellspring supplied fresh water to a large settlement or permanent camp of Acjachemen people. For millennia they occupied this place, living among the sycamores and oaks. Occasionally we come across an artifact bearing witness to their tenure here. The main creek carried trout and salmon all year and the game was plentiful. The climate, perfect. A diverse plant community provided food, medicine, shelter, raiment, and materials for ceremony. To this day, we stand amazed as we aspire to accurately relate to this beautiful place, interpreting it in a manner worthy of its full story.
You can't run a nursery without land and you can't manage land without a land ethic. We are truly blessed in cultivating a reciprocal relationship with this land, it's past, present, and future.