FOR IMMEDIATE RELEASE
AUGUST 12, 2009
Selecting Native Plants for your Garden:
New Workshop Series at Tree of Life Nursery Beginning September 2009
August 12, 2009, San Juan Capistrano – It's no secret that Southern California is in a water crisis.  With water rates rising, water-rationing being implemented – and, with increasing pressure to save money – many companies, HOA's and individual homeowners are paying close attention to the cost of maintaining water-thirsty landscapes.  An elegant and rewarding solution for saving water and money in this economy is to replace water thirsty landscape plants, (including unused lawn space), with California native plants. Tree of Life Native Plant Nursery seeks to further educate and assist our clientele with a new workshop series coming this fall entitled Selecting Native Plants for your Garden.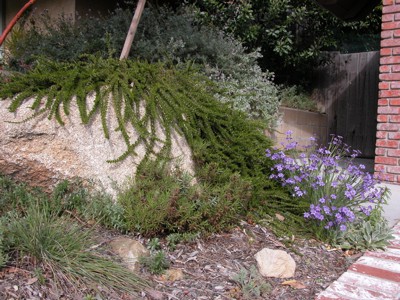 Selecting Native Plants for your Garden will be kicking off on the first Saturday that Casa 'La Paz' will be open: September 19th. Just in time for the fall planting season, these workshops will help people choose native plants to place in their water conserving gardens. Choosing natives that are appropriate for varying garden situations can be difficult.  Tree of Life is here to help. This series includes six different workshops addressing various site situations and design goals, beginning with the first workshop entitled: Plant Selection: Year-Round Color.  Our knowledge and experience working with California natives certainly makes the selection process easier, and we hope to effectively pass on this expertise to customers – new and old.  Click here for the full schedule of the Selecting Natives workshops.
In 2008, Tree of Life Nursery ran a popular series of workshops about Replacing your Lawn (RYL) With Native Plants.  These workshops were such a hit that we ran the series a total of five times throughout the planting season.  Tree of Life is offering the RYL series yet again; twice this August, and, again during the first three weeks in November.  See event calendar for more details.
"Bring California Home" through the use of native plants, which provide authenticity, diversity and habitat for wildlife like hummingbirds, butterflies and beneficial insects in your garden.
Tree of Life Native Plant Nursery is the largest grower of California native plants in the state and has been making beautiful and naturally drought tolerant plants available to the landscaping trade for 30 years.  For the last 15 years, Tree of Life has sold plants to the general public through our retail plant store, Casa 'La Paz'.  Casa 'La Paz' is open on weekdays year-round and also on Saturdays from fall through spring, (Mid-October through May), which is the prime planting season for California native plants.  Tree of Life Nursrey believes in creating spaces that look and feel authentically 'Californian'.
Tree of Life Native Plant Nursery
33201 Ortega Highway
San Juan Capistrano, CA 92675
p. 949-728-0685
f: 949-728-0509
www.CaliforniaNativePlants.com
Contact: Debbie Evans, email.