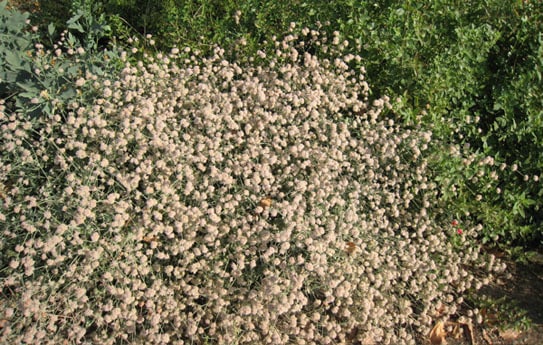 Eriogonum cinereum
In the wild, Eriogonum, from the Polygonaceae or Buckwheat family, is one of the largest genuses in California with over 125 species, including annual forms. Buckwheats occupy many plant communities from the beaches to the mountains to the deserts. The most important horticultural forms are overwhelmingly native to the coastal areas of central and southern California, although 2 important species are common throughout the state.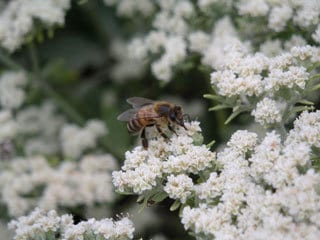 In the garden, few plants can equal Eriogonum for sheer habitat value. Eriogonums are host plants and nectar plants for butterflies and moths, and are a bonanza for bees and other pollinators looking for summer food. Children and adults alike are enthralled with the skippers, blues, and native bees that find Eriogonum irresistible. The dried seeds provide abundant food for seed-eating birds, and the shrubby structures shelter lizards and other wildlife.
As if the wildlife value isn't enough, Eriogonum is a highly ornamental plant and very useful and versatile in the garden. The leaves of this low to medium-sized shrub are an attractive green to gray-green to gray, and the flowers are carried above the leaves in large creamy, yellow or pink clusters that cover the plant. After the main flush of bloom, the seed-heads ripen to a rusty brown,providing late summer and fall color uniquely suited to a California garden.
Eriogonum fasciculatum, California's Own Buckwheat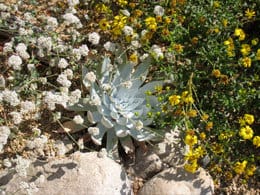 Every Southern California garden should include Eriogonum fasciculatum, California Buckwheat. Needle-like evergreen leaves cover the stems of the shrub, and the long-lasting creamy-colored flower heads draw the eye and the pollinators. The plant blends perfectly in any garden, blooming in late spring and early summer. It is perfect on a slope, in a border, or in a themed garden with coastal sage scrub, chaparral or desert companions. The plant is normally 3-4 feet tall and 4' wide, but two cultivars, 'Warriner Lytle', introduced by Theodore Payne Foundation, and 'Dana Point', introduced by Tree of Life Nursery, are coastal forms that were selected for their lower-growing habit. 'Dana Point' mounds from 1-3 feet. 'Warriner Lytle' grows only 1 foot tall and is a very vigorous groundcover that hugs the ground with year-round green leaves and profuse flowers in summer.
Other Specialty Eriogonums for the Garden
E. arborescens, Santa Cruz Island Buckwheat. Native to the central coast from Ventura north to Santa Cruz county, plus the northern Channel Islands and San Diego County, in coastal sage scrub & chaparral below 500 feet. Sensitive to frost, this beautiful buckwheat has gray-green almost silvery leaves, and umbels of pinkish-white flowers. It grows 2-5' tall, and 6' wide.
E. cinereum. Ashy-Leaf Buckwheat. Native to coastal counties from Santa Barbara south. The foliage is a unique gray-green color edged in pink, and the attractive pinkish flowers that are very long-lasting. Rounded shrub 2-5' tall and 6' wide.
E. crocatum, Conejo Buckwheat. Native to LA and Ventura counties, rare (State of California & CNPS list 1B.2). The foliage is silver-white with unique rounded (almost ruffled) leaves, and the flowers are a striking sulphur yellow, making Conejo Buckwheat a great small accent plant for a coastal foothill garden.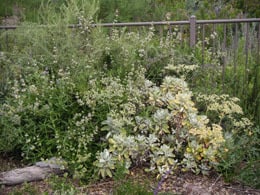 E. giganteum, St. Catherine's Lace. Native to coastal Southern & Central California plus the Channel Islands. This medium shrub with broad gray-green leaves reaches 3-6' tall and 6'wide, with large lacy sprays of white flowers that make excellent cut flowers.
E. grande var. rubescens, Red Buckwheat. Native to the Channel Islands, LA,Ventura & SB counties, a CNPS list 1B.2 rare species. Flowers vary from pink to dark raspberry red, and forms can be shrubby and sprawling to compact petite rounded perfection.
E. parvifolium, Coastal or Dune Buckwheat. Native to coastal southern & central counties, in coastal strand and coastal sage scrub communities. If you live in the Los Angeles South Coast area, make space in your garden for Dune Buckwheat, and then hope to attract the endangered El Segundo blue butterfly. This shrub reaches 1-2' tall and loosely sprawls to 4' wide with white-pink flowers and small rounded leaves.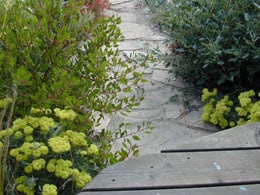 E. umbellatum, Sulphur Buckwheat. Native to the entire Western US, and in most California counties, especially in the mountains. While the plant can be challenging in the Southern California garden, the attractive whorls of leaves and especially the striking, long-lasting deep yellow flowers make the effort worthwhile. 1' tall and 1-3'wide.
Care and Maintenance of Eriogonum
Buckwheats are very drought-tolerant in the garden. Plant in fall through spring in well-draining soil. They will perform well in mounds or on slopes. Most prefer full sun, while some can tolerate part shade. Water to get them established, and in the winter if rain is scarce. In the summer, most buckwheats can survive with no irrigation, but they will look better if they receive a deep watering once per month.
Some Eriogonum host plants and their Butterflies
E. cinereum
Mormon Metalmark
E. fasciculatum
Mormon Metalmark, Gray Hairstreak, Blue Copper, Green hairstreak
E. grande var. rubescens
Gray Hairstreak, Acmon Bllue
E. parvifolium
Gray Hairstreak, Acmon Blue, El Segundo Blue
E. umbellatum

Mormon Metalmark, Acmon Blue, Green Hairstreak,
Blue Copper
Reference:
USDA.gov plant profiles for plant native ranges
Calflora.org for plant ranges and plant communities
California Native Plants for the Garden, 2005, Cachuma Press, Bornstein, Fross and O'Brien
Butterfly list courtesy of Richard James
Featured Photo Credit: Mike Evans, Tree of Life Nursery ©