"We Grow." and Grow and Grow…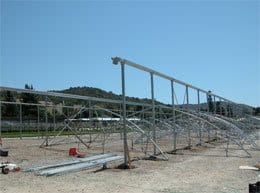 In Fall 2006 we expanded our growing capabilities by adding both a new shade house and a new greenhouse. We are excited about these facilities because they significantly increase our propagation and growing capabilities. We look forward to this coming planting season, as we continue our best efforts to provide the plants you need for your native landscapes and revegetation projects.
The new shade house adds two acres of shade to our five acres previously existing at the nursery. It is equivalent to the size of four of our other shade houses, increasing our shade area by 40%. Modeled after shade houses in the central valley, this shade house is supported by a wire suspension system and high beams to allow for trailer access. The house has been filling up quickly with thousands of one-gallon and five-gallon container plants. Now, we can protect these larger sizes throughout our warm summers so that we might better meet the demand for commercial quantities necessary in the fall planting season.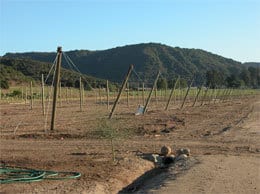 The new greenhouse is state-of-the-art: double poly, roof vents, moving sidewalls, retractable shade, and fully computerized. Creating 10,725 square feet in addition to our existing 14,000 square feet of greenhouse space, we have grown our propagation area by a whopping 75%. The seedlings and rooted cuttings that we propagate in our new greenhouse will have a French connection – in that the house came from France. We'll be propagating in style!
Why do native plants need shade houses and greenhouses?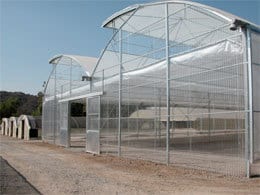 They are a crucial part of allowing us to propagate large quantities of stock year around. A little shade goes a long way for our larger plants during the summer. In containers, plants are much more susceptible to changing temperatures and as a result to pests. We also need to be able to protect the thousands of VERY sensitive seedlings from the spiking heat and dry conditions. Expanding our greenhouse facilities means that we can start propagating even more seedlings from cuttings. More shade area allows us to move larger sizes out quickly, freeing up even more propagation space. More protected space means more seedlings, cuttings and liners, which will soon become healthy plants for jobsites all over Southern California.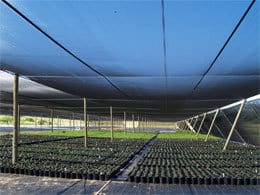 We are very thankful for the opportunity to provide so many plants for your projects throughout Southern California. We hope that by improving our facilities and adding more room to grow, we will continue providing the finest quality of native plant material available. "We Grow." – so you can do the rest!