We hope that you are truly enjoying the joys of summer this year as the temperature rises and every one heads for the beach. You may have noticed that many of native plants in your landscape also take a break during the summer showing little to no new growth or flowers during the summer. There are certainly exceptions, though (including special plants from Baja or the Sonoran Desert region), which are amazing and spectacular summer bloomers.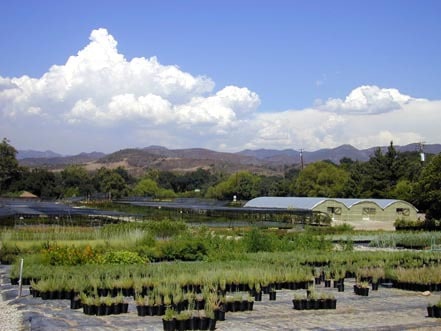 Whether or not you have planted your natives for year round color you may be wondering about how to water during these warm months. The general rule of thumb is to not over-do it with many short and frequent cycles. You should ideally space out your watering frequency to one to two times a month and never in the midst of a relentless heat spell. One suggestion is to try to imagine how Mother Nature might do it, as though we had a summer storm or two. If you have questions about summertime activities in the native garden, please check out our resources online as listed in this complete article.
Summer is always an excellent time to remove unwanted plants, plan and implement those hardscape improvements, and of course plan your plant selection and placement for fall season native planting. Planning to replace your lawn, convert another area of your garden or commercial landscape to natives? A visit to our retail area is an excellent way to familiarize yourself with native plants, whether you're learning more for your yard or for your jobsite.
Related Articles:
Summer Water Sage Advice (pdf)
How to Water Your Native Plants Sage Advice (pdf)
October Planting Season Sage Advice (pdf)
Calendar of Color
Tree of Life Nursery Planting Guide
The California Garden