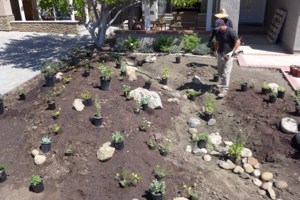 California's drought is here to stay. Our climate and local weather persist hot and dry and we look back on the cooler wetter times as only a fond memory.
Or what if…..
California's drought breaks and we get a few years straight of normal or above normal rainfall. The creeks flow again, green replaces brown for most of the year and the hard drought is a dreadful memory.
What then?
Under either scenario, the "successive gardens" that were planted (are being planted) in response to today's drought (think turf replacement, rebates, water conservation) will be tested to see if they pass the test of time.
What then?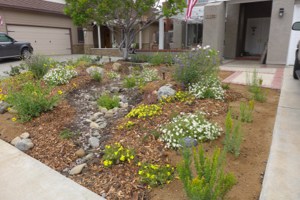 Haphazard turf replacement, random succulents and many so-called "drought tolerant" plantings will be seen for what they are… unattractive, unimaginative and unacceptable. The hodge-podge plant combinations are not pretty, regardless of why they were planted in the first place. Bare earth and gravel will have played out and will there will be demand for new ideas for attractive plants.
We deserve shade, beauty, and places that call us to spend time outdoors.
This is why we plant California native gardens now and all the time:
Beautiful – Trees, shrubs, flowers, diversity, seasonal interest, natural.
Purposeful – Gardens that tell a story, you write the narrative.
Functional – Save water, provide habitat, recreate microenvironments and ecosystems.
Experiential – Invite people into the garden, paths, benches, garden art, feature plants.
Restorative – Healing places. Both the land and the visitors experience a new wellness.
Featured photo: Sarah Bryant, Tree of Life Nursery