October Events Preview
This Saturday!
October 4, 2014
9a-4pm OPENING DAY!
Our first Saturday back to regular hours 9a-4p, 10% off all plant purchases!
10:00 am – 11:00 am Four Seasons of Native Plants
Speaker: Lili Singer, from the Theodore Payne Foundation in Sun Valley, CA
October 11, 2014
9:30 am – 12:30 am Replace Your Lawn 4 in 1 Workshop
Speakers: Jeff Bohn, Rama Nayeri, Colin Dunleavy and Patty Roess
October 18, 2014
9:30 am – OC Friendly Garden Day – Water District Rebate Promotion Day
Local Water Districts will be on site to promote the many outdoor water use rebates available to their customers!

October 25, 2014
9am-4pm: California Native Plant Membership Day – Orange County Chapter
Guest speakers all day long, chapter volunteers available for questions and plant help, 10% discount on plants for all members, and incentives for new memberships!
~~~PAST EVENTS~~~
September 6, 9:30 am-10:00 am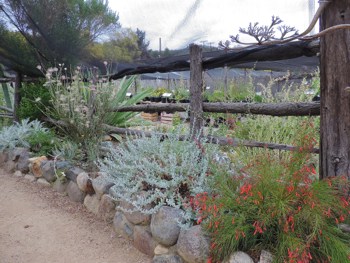 Going Native Design Series: Small Yards: Townhomes & Urban Properties
Read more about the Going Native Design Series here.
September 13, 2014
9:30 am – Native Inspirations: Tour of Tree of Life Nursery Gardens
Come get inspired for your landscape project by seeing beautiful native plants in our nursery gardens. Mike Evans will lead a tour of the nursery gardens and provide insightful discussion about how to get started with native gardening. On the tour you will be inspired by our mature native plantings, some newer plantings and Mike's extensive knowledge and abundant enthusiasm.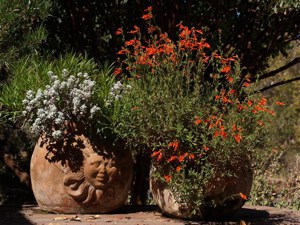 September 20, 2014
9:30 am – 10:30 am – Create a Native Plant Container Workshop
Create a beautiful arrangement of native plants in a decorative ceramic container. We will provide a decorative, re-usable ceramic container, soil, and a variety of flowering native plants fo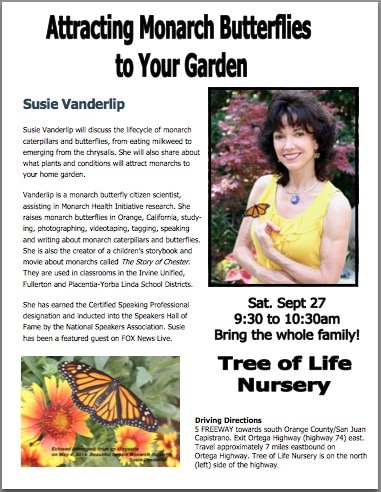 r you to choose from. Three plants will fit into the provided containers so that you can create distinct and unique combinations. We will provide workspace, assistance, decorative rocks and found wood pieces to decorate your container in a naturalistic style. Register & prepay ($30) via our website.

September 27, 2014
9:30 am – 10:30 am – Gardening to attract Monarch Butterflies
Susie Vanderlip is a monarch butterfly citizen scientist, assisting in Monarch Health Initiative research. She is also the creator of a storybook and movie about monarchs called The Story of Chester (www.storyofchester.com). Vanderlip will share about the life cycle of monarch caterpillars and butterflies, from eating milkweed to selecting the location for their chrysalis. She will also talk about what plants and conditions will attract monarchs to your home garden as well as interesting and amusing anecdotes from her years raising monarchs in her garden.