Fall Planting Season Events at Tree of Life Nursery
In Southern California we follow seasonal patterns slightly differently from the rest of the nations' pumpkin latte, back to school and football season starting on September 1. Like many things Californian, we do it a little different here and our weather patterns bring us our most intense heat waves during our "Indian Summer" in through late September when we hit the Autumnal equinox. We do not benefit from the consistent cool relief of Autumn weather until we squarely hit mid-October.
Though possible to plant native plants year-round… fact is that everything about planting and establishing our tough adapted-to-dry-summer natives gets much easier once the weather truly cools off. This is why we deem October the start of our true "Planting Season" when water and initial care of your new native plants becomes a piece of cake!
To celebrate, we have lots of planting and replacing lawn events lined up for this planting season, we hope you will join us!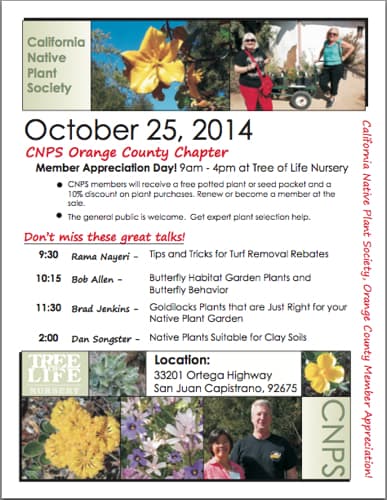 October 25, 2014 – Hours 9am – 4pm
OC Chapter of The California Native Plant Society Member Appreciation Day!
9:30am-3:00pm – Four Workshops Throughout The Day
Speakers: CNPS Experts, see details below
Join the Orange County Chapter of the California Native Plant Society to celebrate membership to this vibrant organization. Members will be at the nursery sharing their extensive garden knowledge and experience to help you shop for the appropriate plants for your landscape. Free plant or seed packet to all current members with your purchase and CNPS members always receive 10% off of plants. Come meet the members, get some great plant advice and learn about upcoming hikes, events and conservation efforts!
9:30 Rama Nayeri – Tips and Tricks for Turf Removal Rebates
10:15 Leon Baginski* – Butterfly Habitat Garden Plants and Butterfly Behavior
*New speaker: updated 10/22/14
11:30 Brad Jenkins – Goldilocks Plants that are Just Right for your Native Plant Garden
2:00 Dan Songster – Native Plants Suitable for Clay Soils
The Replace Your Lawn Four Part Series will be presented on Saturdays in November!!!
~~ PAST EVENTS ~~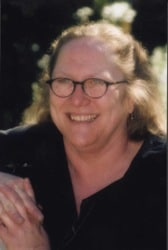 October 4, 2014 – Hours 9am – 4pm
First Fall Saturday – 10% off all Plant Purchases!
10:00am-12:00 pm – Four Seasons of Color with California Natives
Speaker: Lili Singer, Theodore Payne Foundation
Your native plant garden can be a seasonal showcase of flowers, seed, fruit and foliage. Just in time for fall planning and planting, this program showcases trees, shrubs, vines, perennials and grasses that will ensure year-round color. Lili is a horticultural consultant, educator and garden writer (most recently for the Los Angeles Times). She is also the Director of Special Projects and Adult Education at the Theodore Payne Foundation for Wildflowers and Native Plants, a non-profit native plant nursery, seed source, bookstore and educational center in Sun Valley.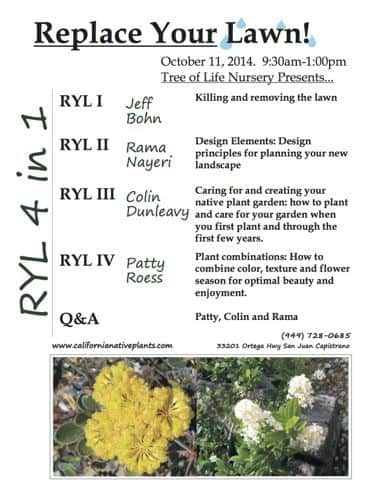 October 11, 2014 – Hours 9am – 4pm
9:30am -1:00pm Replace Your Lawn (RYL) with Native Plants, 4-Part Workshop
Speakers: Jeff Bohn, Rama Nayeri, Patty Roess and Colin Dunleavy

Our four-part Replace Your Lawn Series is a great way to get an overview of the process of killing and removing a lawn and then replacing it with native plants. Join us for this four-in-one workshop in it's condensed format:
9:30-10:00 am RYL I: Killing and removing the lawn, Speaker: Jeff Bohn
10:10-11:00 am RYL II: Design Elements: Design principles for planning your new landscape, Speaker: Rama Nayeri from Creations Landscape Design
11:10-12:20am – RYL III & IV: Caring for and creating your native plant garden: how to plant and care for your garden when you first plant and through the first few years & Plant combinations: How to combine color, texture and flower season for optimal beauty and enjoyment.Speaker: Colin Dunleavy & Patty Roess
12:20-12:45 pm – Q & A with Patty, Colin and Rama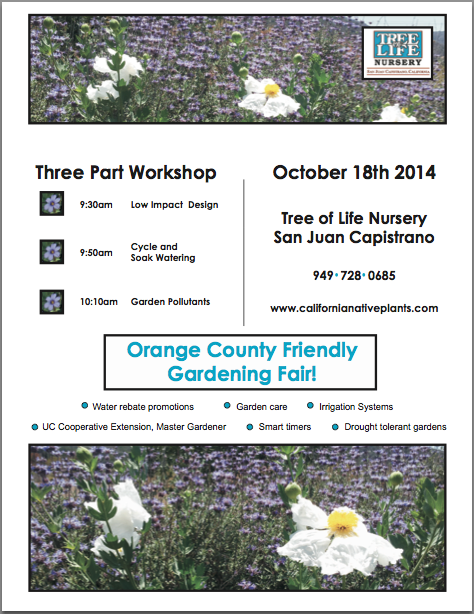 October 18, 2014 – Hours 9am – 4pm
9:30am-2pm – Orange County Friendly Gardening Fair!
9:30am-10:30am – Three Part Workshop
Speakers: Water specialists, see details below
OC Friendly gardens are drought tolerant gardens that save water, look beautiful and reduce runoff that can pollute our beautiful coast. At this special event, various organizations and companies will promote water rebates, garden care and irrigation system options to help you save water and take advantage of all possible rebates. In attendance for this event will be local water districts who will help direct you to turf removal rebates and OC Stormwater management to help you with addressing any runoff issues. The UC Cooperative Extension will promote their Master Gardener program as well as their resources for plant care and best management practices. Irrigation companies will also be onsite to promote the rebates available as well as the options they have available of sprinkler solutions, smart timers and drip systems.
9:30 am – (20 mins) – Low Impact Design
Speaker: Andrew Kanzler, City of San Clemente Water District
9:50 am – (20 mins) – Cycle and Soak Watering: Save money, time and make healthy plants!
Speaker: Nate Adams, City of Santa Margarita Water
10:10 am – (20 mins) – Common Garden Pollutants
Speaker: OC Stormwater Project