All workshops are free and start at 9:30 am unless stated otherwise.  
April 6 – Intro to Native Gardening
Now that you have killed your grass, and you are working on your design, what are you supposed to do? Natural Resource Program Coordinator Alisa Flint will share from our booklet, "Creating and Caring for your Native Garden." Topics will range from site and soil prep to planting, watering, pruning, and troubleshooting problems. Join us and you will learn how to create a thriving and enjoyable native garden. As we have practiced for years: "Maintenance is what you do for your car, you CARE for your plants!"
April 13 – Native Plants and Their Pollinators
California native plants support a large diversity of pollinators, from tiny wasps to acrobatic hummingbirds and everything in between. Many of these pollinators go unnoticed unless we stop to look and engage with our native gardens and the natural spaces around us. Join local biologist and author Bob Allen as he explores the diverse world of pollinators that both support and rely on native plants, and learn how you can attract a wide range of our local pollinators to your natural garden.
April 20 – Design Basics
Pat Overby is a lifetime educator and long time designer of California native plant gardens. Her daughter, Lisa Coyte, is also an experienced designer focused on native plants. Their many years of expertise coupled with their ability to educate make them one of the easiest to follow design instructors we've had. If you want practical information about how to get started with what can be a daunting task of changing your landscape, you will NOT want to miss this workshop. Come ready to work out some of your pressing questions with Pat and Lisa as this tends to be an interactive and fun workshop.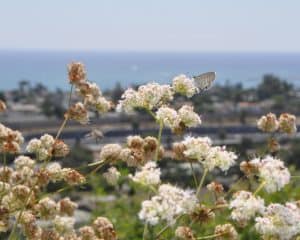 April 27 – Habitat Gardening
Planting natives offers more than simply adding flowers and attracting showy pollinators to our yards. They are the foundation of larger local food webs and play a critical part in supporting all animals – insects, amphibians, reptiles, birds, and mammals alike – that call California home. As we continue to "develop" wild lands, it is of increasing importance that we use native plants in our gardens and other landscaped areas to create a functional habitat that mimics nature. Join native plant expert and landscape designer Colin Dunleavy for an engaging discussion on the importance of habitat gardening and how you can use your garden to create habitat for native fauna.