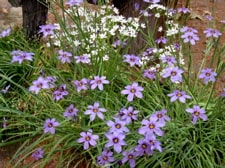 Spring Workshops at Tree of Life Nursery
This April, we are continuing our Native Designs workshop series.  We have chosen various topics related to designing your garden with native plants, including a talk by landscape architect Megan Fairleigh of Go Native Landscape Design Studio.  April is the perfect time to visit the nursery with many, many flowers, pleasant weather, and as always, friendly faces.
In May, we will be running the ever popular Replace Your Lawn workshop series again.  These workshops will begin on the second Saturday in May and run through the end of the month.  Learn how to kill your water-guzzling lawn and get ideas for how to renovate your landscape with wildlife-friendly native plants in this four-part series.  Our guest speaker for the design portion of this workshop series is Rob Moore of California Native Landscape Design.
For more information about our April and May Events, see our News and Blog Page.  Also, see the month view of the schedule on our Events Calendar.