November in the Natural Garden
Sorry for the delay in getting this to you. I had hoped for rain earlier in the month, and for a chance to extol the relative ease in the November natural garden. It has remained dry.
Forecast: Continued dry and unseasonably warm with no chance of rain. After a decent bit at the end of October, we imagined the storm gates might officially open for winter. It appears that through November, we may have to enjoy only imaginary rain, good enough for a poet or philosopher but completely meaningless in the realm of soil moisture.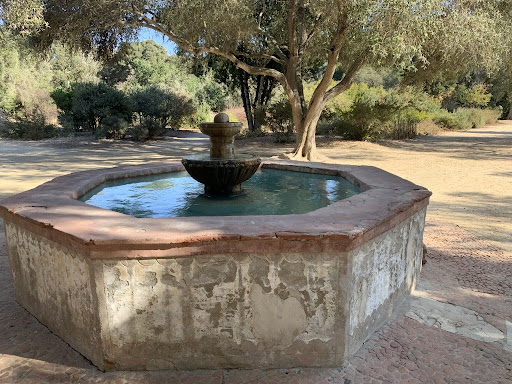 Water, more precious than gold. La Purisima Mission.
Current events, history, review, and notes
Many climatologists claim we might be returning to more "normal" conditions; that the last 150 years or so (a little longer than we've been keeping weather records) in the west were actually abnormally cool and wet. We built farms, towns, and cities based on the notion that rivers and rainfall have always been (and would always be) just as they were when the pioneers moving west first encountered them. Today we find ourselves with more people and less water.
Interestingly, the data to support this is found in the growth rings of trees. Our plants are showing us our rainfall over the last 1200 years! We are definitely trending in a "big picture" sense, towards hotter and drier.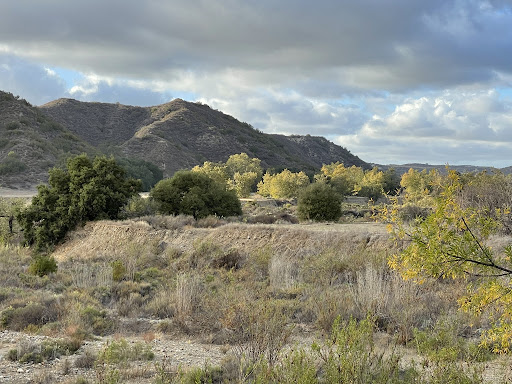 Watering
Though the days are shorter with soils drying out a little slower, the fact is that they can dry out, even during the season native plants are ready for water. If our rains continue to fail, put an inch or so of irrigation water on your established garden every three weeks. Water new plants individually by hand, about once a week.
Related to Watering
A long time ago, an old old-timer told me that right after the fall equinox, the groundwater table moves closer to the soil surface. I There is no real substitute for rain. Our municipal water contains dissolved salts and chlorine. If we are headed into a dry winter, plan on using plenty of water with each of your Deep Soak irrigation events, so you can leach the salts down into the lower soil levels. With shallow irrigations, (not recommended), harmful salts can accumulate near the surface because of evaporation. What is a Deep Soak? See WATERING section in AUGUST 2021
Pruning
This is still a great time to thin woody shrubs like manzanita, or trees like oak, ash, sycamore, mesquite, and palo verde. Artfully prune to reveal interesting branching structure. Fall is typically not the time for heading back or shaping from the outside, unless you are trimming to provide access or to maintain a distinct shape on plants like buckwheat, sage, sunflower or sagebrush.
Weeding
Ok. Eliminate the last of the summer weeds to make room for the first of the winter weeds. Just kidding. If you keep up on weeding, especially in a new garden, this little chore becomes a non-issue because in an older garden you will have achieved a stable, With dry winters come fewer weeds. Still, keep them out of your garden.
Mulching/Top Dress
Always keep the valuable leaves that fall beneath native shrubs in what has been termed "leaf litter." It is the most valuable topdressing. If you feel inclined to import a mulch from an outside source, choose a clean chunky product such as ground tree bark (i.e.; redwood) which can be purchased as "walk-on bark 5/8". Avoid inferior mulches and splintery shredded wood. See "THE LOW DOWN DIRT ON MULCH." Remember, rock aggregates and decomposed granite make a nice topdressing in some settings.
Feeding
With the unseasonably warm days, the soil has retained its moderate temperatures. You can still apply an all purpose organic plant food with a balanced ratio of N-P-K (the nutrients listed on the bag). Scratch it into the top inch or so, and then water it into the soil.
Troubleshooting – Varmints, Pests and Diseases
Fortunately, a lot of the fall migratory birds we see this month are insect eaters. Watch for harmful infestations. Plant diseases are of minimal threat with dry weather, cool soils, and short days.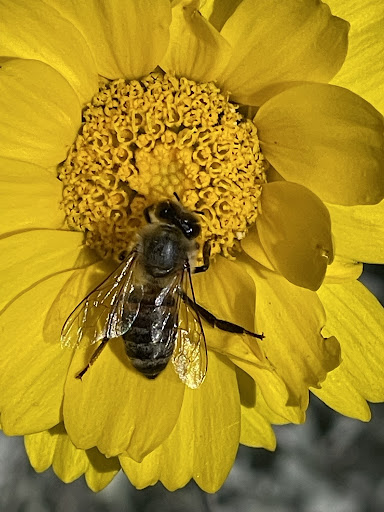 Annual Wildflowers
The best time to sow seed is fall (meaning now), especially trying to time it to immediately precede a rain event (good luck on that one this fall). We have some great seed mixes in stock, check them out online or come on in!
Adding New Plants
The best time to plant new natives in the garden is the period October through March. In theory, we try to take advantage of cool season rains. In a 2021 reality…..?…..?
Engage
November should (ideally) put us square in the sights of repeated rain events, moving through in waves, and piling up 6-10 accumulated inches by year's end. In such a scenario, we would get breezy days and floating clouds of every shape, some bright white, others dull grey with mottled deep blue, often laden with precious moisture; some brushing the hilltops, others sinking into valleys where, connecting with earth, they release their showers. With all that in mind, our 2021 reality remains clear: hot, and dry, with the most notable winds being offshore Santa Anas, making everything yet more parched. So we won't be dipping our tired feet in some sort of brand new mountain stream anytime soon.
And the long term forecast bodes for more drought. In the garden we just water. And in our sojourns to "out behind the wilderness?" We simply marvel at how resilient our natural plants and animals are, especially in arid times. Will it be another winter of bone dry creek beds? Will the dust never settle? Lots can happen between now and March, but we may have to get used to not needing rain gear when we venture out.
Take heart this fall! We have clear air and distant views from high points, at least on some days. And the winter night sky has always seemed the most interesting, perhaps because it is longer than summer's and generally clearer; the winter constellations seem to be more prominent.
So all hope is not lost. As far as your garden is concerned, that small plot where you have some control, all you need to do is: know the land, understand the land, interpret the land, and react accordingly. Oh that our society would treat our marvelous public lands in this manner!
Take the wise owl who silently hunts every night, making the best of every situation. Lots of rain, more grass, more mice. Scant rains, less grass, less cover, fewer mice, but no place for mice to hide. She eats and provides for her young through thick and thin. I want to learn her ways.
So I plan to stay on track, and take each (dry) day as it comes. Later this month, comes my favorite holiday, Thanksgiving. It's about being thankful for what we have, not wishing for stuff we don't. I can't change the weather. I wish it would rain. I hope there are no fires. But thank God I have a garden hose at home, and a lovely trail ahead (albeit dry) that (hopefully) leads towards some flowing water next month.
Hey, let's keep making it!
From the NOVEMBER Garden,
Mike Evans 
Questions? Help is just one call or one email away. Call (949) 728-0685 or email (with pictures if you like) our special helpline: gardenhelp@californianativeplants.com