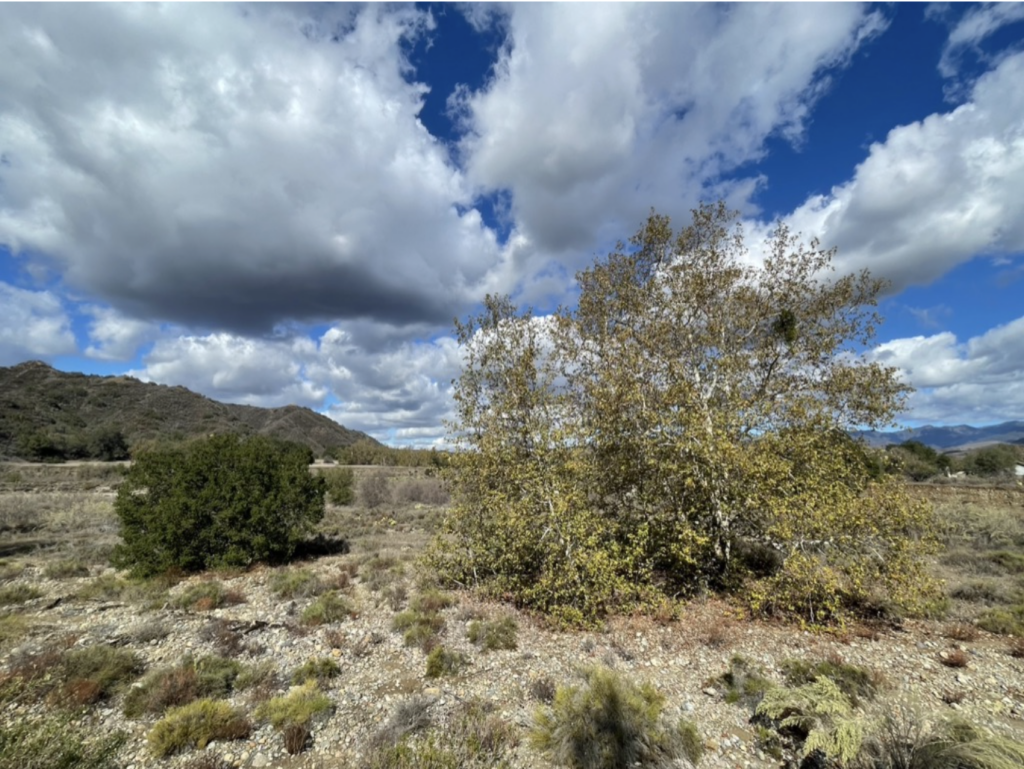 November in the Natural Garden
Fall is definitely upon us. Sorry about missing last month's newsletter. Technically, OCTOBER and NOVEMBER constitute California's autumn months (we call SEPTEMBER "Post-summer"), so the garden tasks in these two months are similar. Fall is a very active season in the natural garden and should be viewed as the start of a new year. Happy New Year.
Some of the inland stations, mountains and deserts in southern California got some amazing monsoon action in September and October, and we are seeing unprecedented green new growth and abundant flowers in those regions. But true winter rains (and snow) are just starting to materialize, so we keep our fingers crossed for a good rainy season.
Watering
Hopefully, during the late summer and fall heat waves right up to mid October, you were watching soil moisture and maintaining root zones with Deep Soaks. As our day length grows shorter, those evening-time Refreshing Sprinkles become less important, but since they're still a lot of fun, don't hesitate to continue adding them to your Deep Soak irrigation regime during dry spells. Not sure what these terms mean? See the Watering section in our August 2022 in the Natural Garden.

Related to Watering
At this very moment, whilst I pen(?), write(?), type(?), chicken peck(?), pound out this newsletter, rain is falling. This is a region-wide, no-nonsense, serious-soaking, much-needed, long-overdue rain that is a game changer on watering our natural gardens. In the last 18 hours, we have received 1.7", the approximate equivalent to one dry season Deep Soak using sprinklers. By comparison, a Deep Soak would be applied over two to three consecutive summer days, approximately once a month. Since the amount is similar to what we're getting right now, take note. Irrigation is for summer, and precipitation is for November. Hopefully we'll have a season of decent rains, so we won't even have to think about overall irrigation until around May. (Editorial note: As this piece hits the press(?), news stands(?), airwaves(?), ethernet(?), that internets thingy, the rainfall amount for the wonderful 11/8/22 storm totaled 2.50" at Tree of Life.)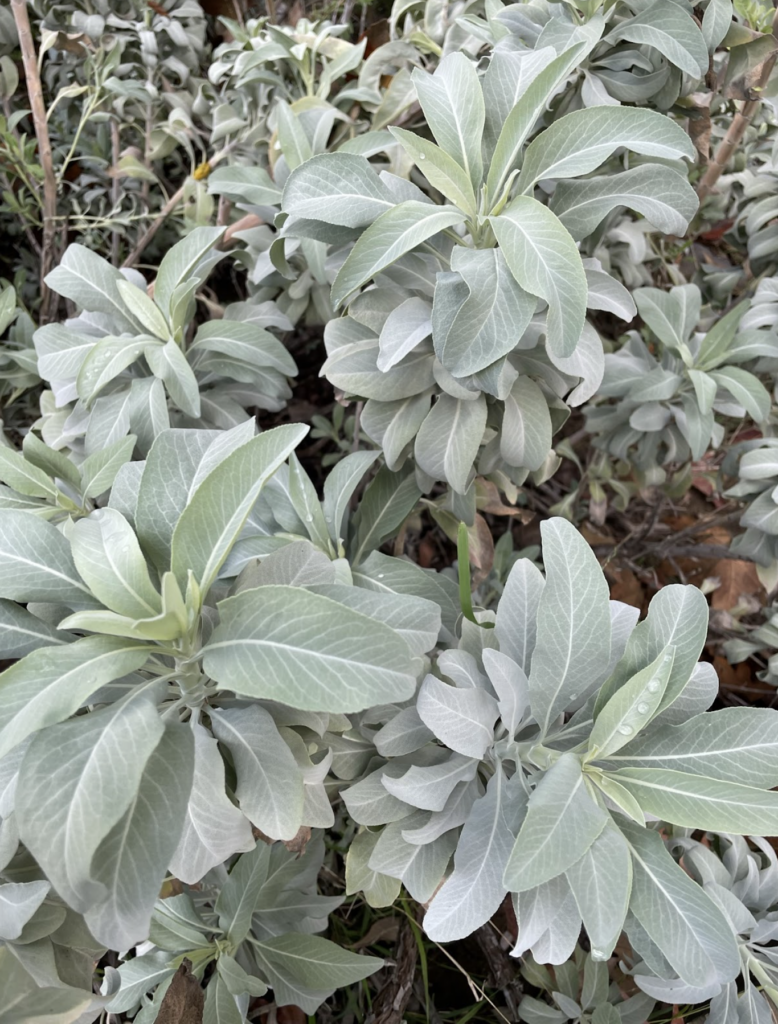 This white sage was sad and sorry before the rains. Now it is happy and hopeful.
Pruning
All manner of pruning can be performed this month. Thinning, shaping, heading back, hedging, crown reduction, and trimming to maintain a plant's ideal height. Don't head back (tip prune) manzanita, lemonade berry or sugar bush, as you will be cutting off all the flowers (nascent buds) due to open in January. Always remember good horticultural hygiene. Periodically dip the shears and tools in a 10% solution of bleach (9 parts water to 1 part bleach), or rubbing alcohol, or Lysol spray. The point is to avoid spreading plant disease (if any present) between plants or branches.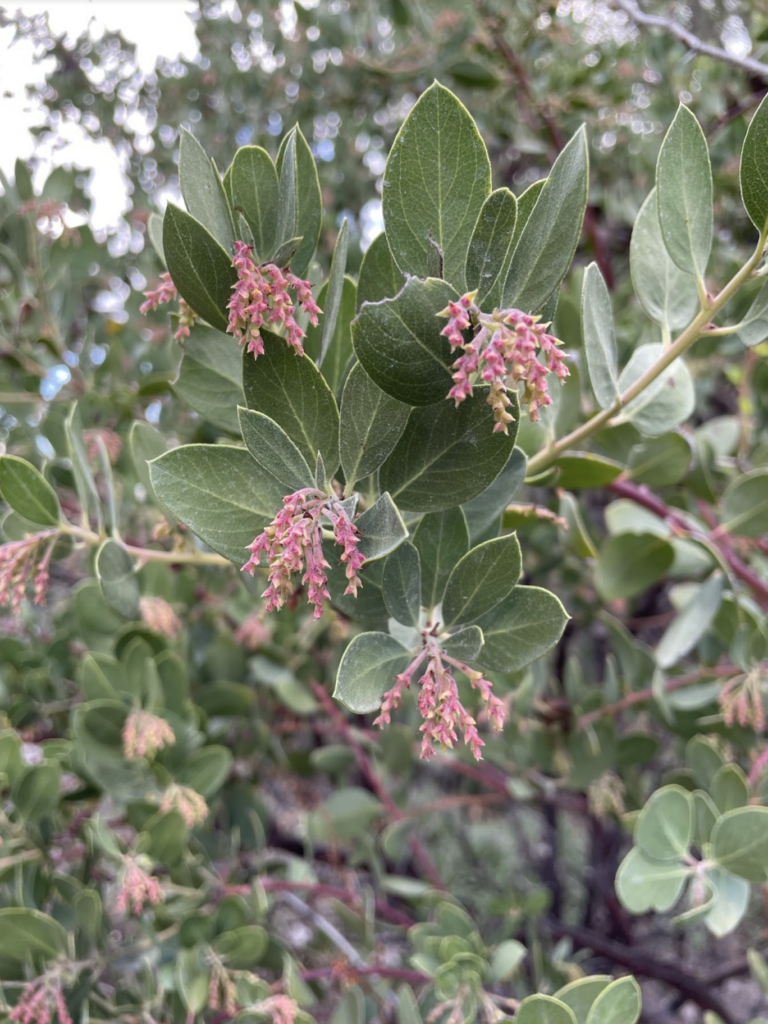 Weeding
Weeds should be easier to pull now that the soil is soaked. If you plan on sowing wildflower seeds, get all the weeds out first because when the flower seeds begin to germinate, it will be hard to distinguish the weeds from the flowers.
Mulching/Top Dress
November is one of the safest and best months to bring in topdress, if you need it. For organic topdress, we recommend small, chunky, natural bark products, 1/2" in size and applied about 2" thick. For mineral topdress you can use small chunky pebbles or stones, about 1" thick. The best organic mulch (topdress) is the leaf litter (forest duff) that builds up naturally under plants. Leave that in place and spread it around rather than importing foreign material if possible. If you bring in topdress from off site, make sure it is clean; no weed seeds, ants, harmful insects or plant pathogens. Do not pile mulch up around the stems and the plant's crown. Avoid poorly processed green waste which is usually made up of the four ingredients that, when all present together, cause problems; sticks, strings, flakes, and dust. If the mulch looks to contain all these, or smells bad, don't bring it into your precious natural garden.
Feeding
Native plants will experience active growth for a few weeks until the soil becomes very cold mid winter. Fall is a great time to apply an all purpose organic fertilizer to individual plants or the entire garden. Now that we have our first real rain, just get rid of all the weeds, scratch up the surface a little bit, and toss the fertilizer out at the rates (or use slightly less) indicated on the bag. You can feed on the same day you scatter wildflower seeds. Fertilizer – everywhere, seed – only where you want flowers next spring.
Troubleshooting – Varmints, Pests and Diseases
As the weather gets colder, insect life cycles slow down. Gophers may become more active and Argentine ants seem to never take a break. You may see some residual old scale insects left over from summer. Neem oil will do the trick, but also try to control the ants that might be present, tending the scale. Manzanita leaf gall aphid (bright red distorted edges on new growth) might show up. Best to just cut the leaves off on sight and discard them in the trash. As a general rule, natural gardens that are properly watered, pruned, mulched, fertilized and cared for, tend to grow remarkably free of injurious plant pests. Plant diseases are typically not a problem in winter. Beneficial insects and the ecological balance created by our garden allies will be on your side at this time of year.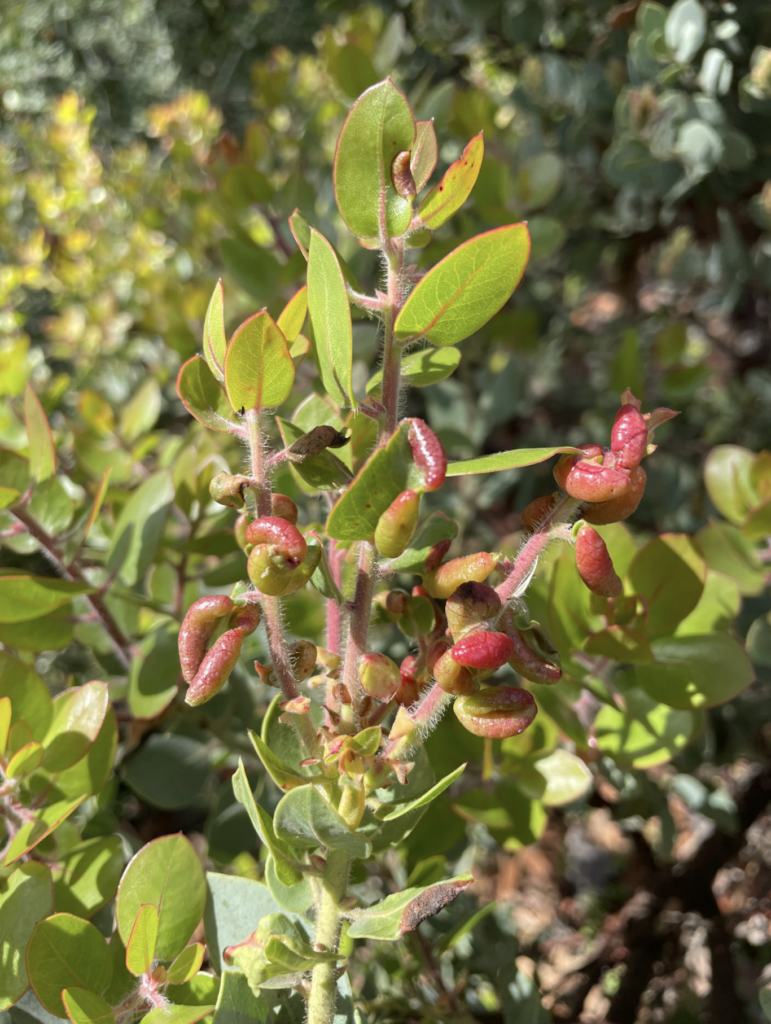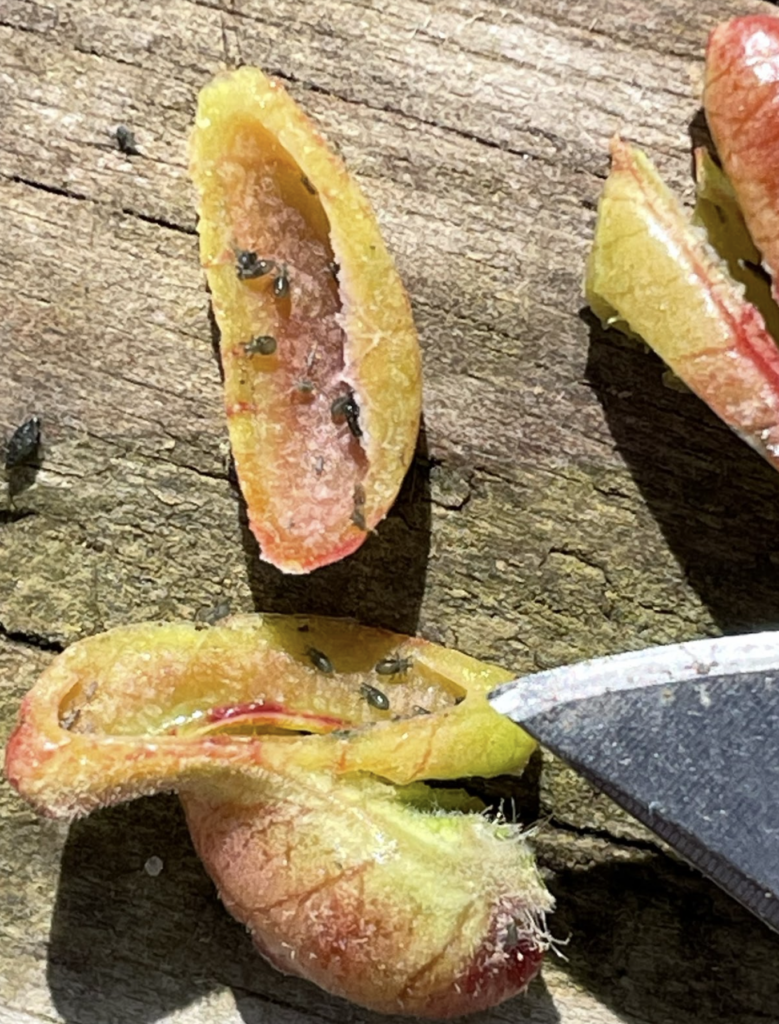 Annual Wildflowers
By all means. Now is the perfect time to sow wildflower seeds, especially since we're getting our first true rain. We have several different mixes. Stop by.
Adding New Plants
Absolutely! We've been waiting a long time for the ideal month to plant natives and November is here now! Especially after this rain which washed off the dust and got the soil thoroughly soaked, we can be planting to our heart's content. Stop by, we'd love to see you.
Phytophilia
Literally translated "brotherly love of plants," this section in our monthly newsletter specifically addresses the "sixth sense" we develop in our relationship to plants in general, and specifically to plants in our gardens. This month, I'm seeing plants that want to be touched.
From a distance, we've been feeling sorry for our plants for too long. During the long days of summer, and especially during the relentless heat waves near the end, we simply couldn't do much for them, except provide the Deep Soak coupled with occasional Refreshing Sprinkles.
Now they want our touch. Go out and prune, (if only lightly) because a little cleaning and tidying is in order this month. Thin, head back, shape. Then go back and trim some different plants on a different day. You can do almost no harm this time of year, so practice artful pruning. Bring a few trimmings inside for the vase, or dry them for potpourri. The reciprocal relationship you (re)establish with your plants (after the brutal summer) will be good for everyone involved. And please don't consider fall pruning a chore. Call it "healing touch"… therapy for the plants… and for you.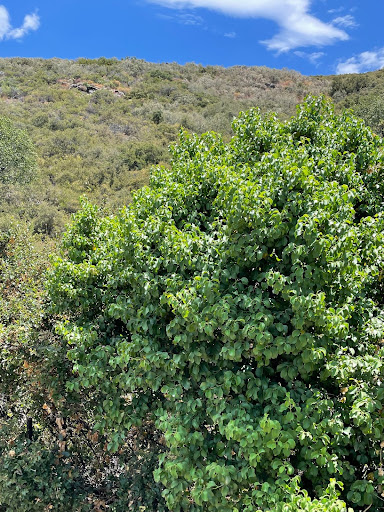 Important Review
Rain, finally
Pruning for improvement
Tend the soil surface, weeds, mulch, fertilizer
Keep and eye out for bad guys, but mostly good guys
Sow seed
Plant plants
Touch every plant within reach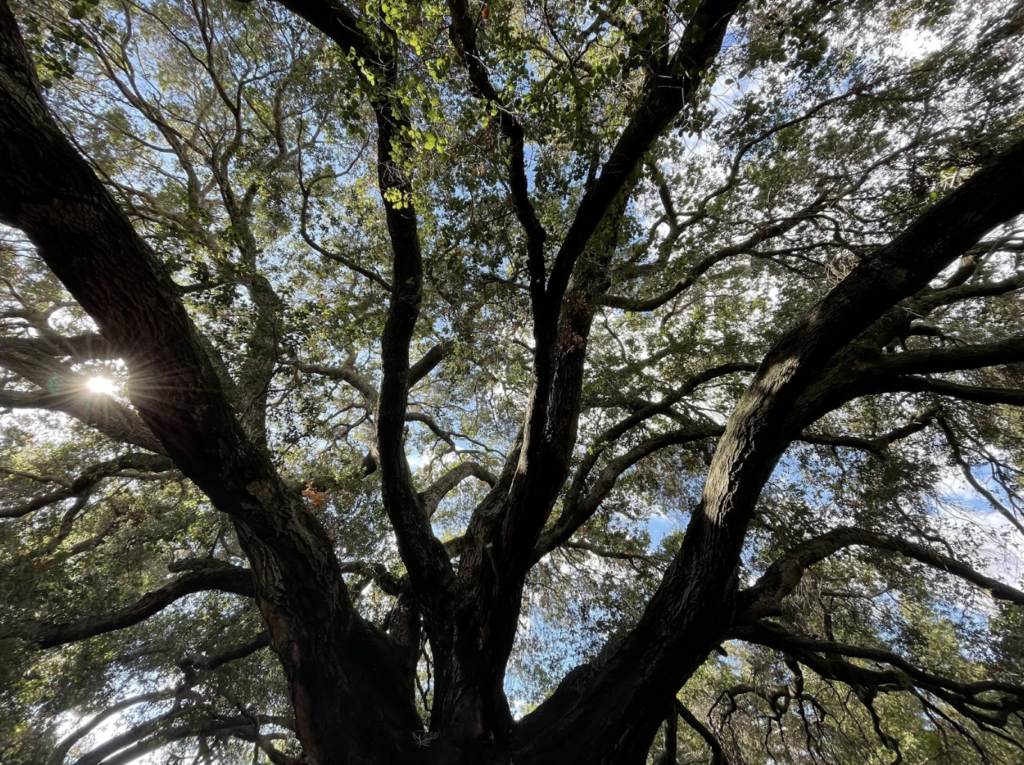 Engage
Speaking of touching garden plants for their own good and yours, have you hugged any trees lately? Summer crowds are gone and though the days are shorter, the hills are calling. This is such a good time to go out and catch nature's not-so-subtle changes. As we move through fall into winter, especially if we start getting regular rains, you will see renewed activity in plants, novel birds and animals, lichens on rocks going from drab to brilliant, clouds appearing and disappearing, (or just whizzing by), a daytime moon, some familiar pattern in fallen leaves, long shadows, salvia fleshing out, and all manner of nature's abundance quickly coming back to life. Personally, I find this so rejuvenating that my only natural reaction is to hug a tree. Maybe even give it a little kiss.
Hey, it's fall almost winter! We're makin' it!
From the NOVEMBER Natural Garden,
Mike Evans
Questions? Help is just one call or one email away. Call (949) 728-0685 or email (with pictures if you like) our special helpline: gardenhelp@californianativeplants.com