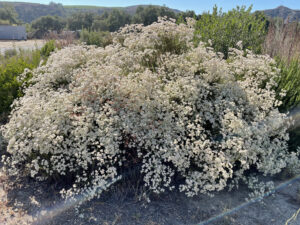 Buckwheats and butterflies, long days, warm nights, and afternoon heat that you can almost hear reverberating around the garden… or is it simply the audible buzz of busy pollinators? You know it's hot when you can smell sumac at noon or mulefat in the evening. The birds are getting up earlier than usual. Lizards abound. With spring flowers fading, warm season blooms are ruling the day. As far as your garden's patterns and rhythms are concerned, it's all about sun and shade by day followed by the lovely dark of night, when it's a little cooler. It's as if the garden is breathing on a 24-hour cycle with big sighs of relief at the end of each hot day.

Current events, history, review, and notes
The idea behind the natural garden in California has been around for about 100 years. In 1915, a budding young plantsman called Theodore Payne was commissioned by the City of Los Angeles to create a 5-acre "wild flower garden" in Exposition Park. Trees, shrubs, perennials, bulbs, grasses, and annuals were planted as a reproduction of a California natural landscape. The native plants, representing 262 species, were all labeled with botanical and common names, and the L.A. public got a real prize.
Susan Bixby Bryant founded Rancho Santa Ana Botanic Garden on her Spanish land grant ranch of the same name. The year was 1926. It was her vision to create a California "Wild Garden." She rallied the help of virtually every heavy hitter botanist and horticulturist in the country. The list of experts that helped her reads like a Who's Who of American landscape architecture and plant science.  In 1951 the institution moved from the hills of Orange County to its present location in Claremont.
The Santa Barbara Botanic Garden also began in the mid 1920's as an extension of the Museum of Natural History. Plant ecologist Dr. Frederic Clements came from the Carnegie Institution and focused on Santa Barbara as the ideal place to create a native plant garden that could be laid out representing the state's natural plant communities. Nearly 100 years later, we have a world class garden.
During the same period, nurseries throughout southern California began propagating, selecting, and selling California native plants. The era was nearly a century before any sort of water emergency would be on us. People simply recognized the inherent value of our native flora.
In addition to their unique beauty, natives have long been recognized as utilitarian; they can be planted and maintained to make landscapes that are truly sustainable. As our climate warms, local weather patterns change, and our scant water resources become stretched beyond their limits, sustainable gardens will be the only ones to survive. And natural gardens will thrive.
Today, our population and environmental conditions are different than back then, but our message, materials, and methods are the same. When Mr. Payne, Mrs. Bryant and Dr. Clements laid out their natural gardens, their goal was the same as yours: To showcase the beauty of big wild California in small tamable settings, and then invite the world in to experience one of the most magnificent places on earth. This is a lofty goal.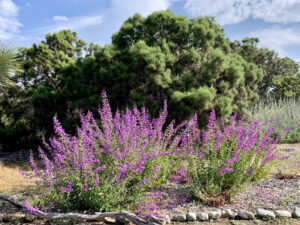 Penstemon spectabilis at Rancho Santa Ana Botanic Garden
WATERING
Continue practicing the "Occasional Deep Soak Plus Frequent Refreshing Sprinkles" method all summer long. Give a Deep Soak when the soil is dry to the touch 4" down. Do "Refreshing Sprinkles" anytime. Apply a Deep Soak as needed every approximately 14-30 days applying 1.5" precipitation that will soak in 14" in more. Do a Refreshing Sprinkle a couple times a week at the end of a hot day to only wet the leaves and soil surface. Here you can find all the details: JUNE 2021 Watering. WATERING GUIDE.  SEPTEMBER 2020 Watering.
RELATED TO WATERING
All new plantings should be hand watered for at least the first 3-4 months. Fill the planting basin on each plant with enough water to soak in deep. You should also water the soil outside the dimensions of the planting hole. Don't let the nursery root ball dry out. At the same time, encourage roots to explore the surrounding soil by providing moisture outside the watering basin. You can also spot water dry spots in your garden by hand this month.
PRUNING
You can always tip prune or pinch new growth to make plants more compact. The spring flowering plants can be spruced up by deadheading the dried flowers. Watch your garden at all hours of the day. If certain songbirds (i.e.; goldfinches) are feasting on your seeds, don't remove all the spent blooms.
WEEDING
Always. Hoe or pull, no herbicides please. Always try to get weeds out before they set seed.
MULCHING/TOP DRESS
The best seasons to apply new mulch are spring and fall. Organic or mineral, look for clean  "chunky" material, i.e.; redwood bark or rock pebbles that will cover the soil and still allow it to "breathe." If you apply in summer, keep it away from the plant's main stem (collar) and any low branches that touch the ground. If applying mulch can wait until fall, that's better.
FEEDING
All purpose organic fertilizer, but wait until October.
TROUBLESHOOTING – VARMINTS, PESTS AND DISEASES
Natural gardens are all about attracting wildlife, but we don't want injurious plant pests. See this section in TROUBLESHOOTING March 2021 and from other prior months for more details. 
Regarding plant disease, especially root rot or leaf fungal problems like scab, shot hole, mildew or rust… they are all related to excess moisture, either in the roots or in the leaf zone environment. Recommended infrequent Deep Soak waterings in the early morning will be key. Apply Refreshing Sprinkles later in the day, when the sun is low, but in time for the leaves to dry off before nightfall.
ANNUAL WILDFLOWERS
Your big wildflower show from last spring is probably winding down and you can collect seed now. You can remove the dead biomass, or grind it and stomp it all up; then let it rest on the surface as a sort of seasonal natural organic mulch.
ADDING NEW PLANTS
July and August, plus most of September can be pretty darn hot. You can safely bring new plants into shady spots or pots, or into areas where you can give them extra TLC. Desert plants love warm season planting. Add new plants now, but be prepared to keep a watchful eye. You can provide temporary shade for each plant as necessary. See JUNE NEWSLETTER Adding New Plants for more details.

ENGAGE
Stay safe on hot days if you hit the trail. Or, you can just stay home and enjoy your natural garden at the pace of a summer day, one big breath in, note the sun's patterns, and a long slow breath out before nightfall. The "to do" list of garden tasks in summer is surprisingly short. There's very little meddling needed this month… just watch birds and butterflies… and don't fall behind on watering.
Today we emulate the visionaries who 100 years ago left their horticultural legacies in the natural gardens they made. Our gardens are products of our vision. As you continue to build, care for, and engage with your garden, you are taking part in a straightforward activity that is attached to all the complexities of life. To make a garden space look "natural," and also both inviting and accessible is really at the highest level of any horticultural undertaking.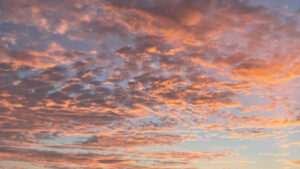 Hey, we're makin' it (through summer!) (Fall is coming.)
From the July Garden,
Mike Evans
Questions? Help is just one call or one email away. Call (949) 728-0685 or email (with pictures if you like) our special helpline:  gardenhelp@californianativeplants.com
Crossroads at Tree of Life. Summer 2021