California Fuchsia – Epilobium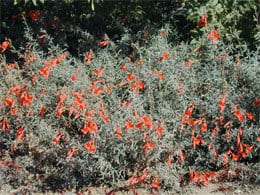 Epilobium, formerly Zauschneria, common name "California Fuchsia" is a champion of summer color. When many native plants in the landscape are in summer dormancy, Epilobium blooms brightly with its orange-red tubular flowers held above grayish-green to green foliage. Epilobium's brilliant color and tubular flower are guaranteed to attract hummingbirds, who take turns for the privilege of feeding on the nectar. In fact, Epilobium is dependent on hummingbirds for pollination, and it provides one of their principal nectar sources during the summer months.
Several species and cultivars will provide a range of growth habits, foliage color, blooming period and flower forms. Most plants will flower for 1-2 months; some start as early as late June, and others will continue until late September or even October.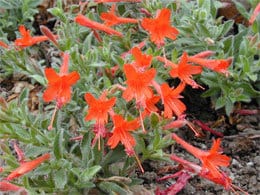 Epilobiums are perennials: some will spread by underground rhizomes, and some will occasionally re-seed in the area. California Fuchsia performs beautifully in pots and baskets. For a slope, Epilobium is a great choice when planted with other natives that prefer full sun, little water and excellent drainage.
Epilobiums look most spectacular flowering in summer, but that is not the best time to plant them. As with most natives, fall through spring planting will promote success. Stems are brittle and the plant should be handled with care when planting, and should be planted away from high traffic.
The taller Epilobiums may need light pruning on growing tips at the beginning of the season to encourage fuller growth. The upright forms can be grown near supportive plants so they can lean on them and intertwine branches in naturalistic fashion.
After the first or second year, plants should be cut back almost to the ground. They should be pruned every year at the onset of the rainy season to encourage beautiful, fresh new growth for the following spring.
---
EPILOBIUM CHOICES:
E. canum (formerly Zauschneria californicum) – Species occurs statewide, has gray-green foliage. 1' tall and 4' wide. Spreads through re-seeding. Suggestion: group it with buckwheat (Eriogonum), monkey flower (Mimulus), Penstemon, and coast sunflower (Encelia) on a bank to create a dream garden for pollinators and nearly year-round color.
E. canum ssp. canum (formerly Z. cana) – The linear leaves and more compact habit of this plant make it a good choice for smaller spaces and pots, and it has a late bloom time to extend the season. 1' tall and 4' wide. Suggestion: keep it pruned in a rock garden for neat appearance year round and spectacular seasonal color.
E. canum 'Catalina' – A horticultural selection from Catalina Island, introduced by Tree of Life Nursery. 1-3' tall and 4' wide. The leaves of this beautiful selection are grayer than the typical species, the bloom time is later and longer, and the more upright plants are tolerant of typical garden conditions. Include it in a native border next to a patio to enjoy the flower color and the hummingbird visitors. Plant with coastal sage scrub favorites such as Lemonade Berry (Rhus integrifolia) and Coffeberry (Rhamnus californica).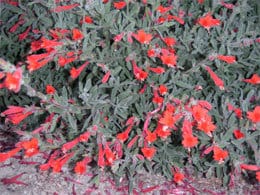 E. 'Everett's Choice' – spreads by underground rhizomes and by re-seeding, a great choice for a slope or other area that needs to fill in. 1' tall and 4' wide. The flowers are a large and spectacular dark orange-red, come early and continue for up to 3 months. Contained in a brick planter, or set free on a slope, Everett's Choice will draw the eye for an entire summer.
E. septentrionale 'Wayne's Silver' – Small-scale groundcover with silver/white leaves, native to northern California. Try this beauty in a clay pot with 2 or 3 other choice natives and enjoy "nature in miniature".
WHAT'S IN A NAME? : EPILOBIUM / ZAUSCHNERIA AND FUCHSIA: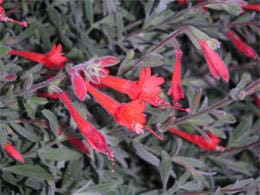 Epilobium is a large genus encompassing both California fuchsia (formerly Zauschneria) and fireweeds/willow-herbs. Although quite different in appearance, these species have been united in a single genus based on their many shared biological characteristics.
With the reclassification of the genus Zauschneria into the genus Epilobium come name changes of the species within the genus, because of name duplication and to better classify these plants by their botanical characteristics. This nomenclature puzzle is still being untangled, and we can expect with the publication of the 2nd edition Jepson Manual in 2008 that all will be revealed. Meanwhile, the best information currently available is included in our "Epilobium Choices" chart.
"Fuchsia" is named after the 16th-century German botanist Leonhard Fuchs. Note the spelling of Fuchsia – the "s" falls after the "ch" and not before, a very common misspelling indeed! California fuchsias are in the same family (Onagraceae) as the common hanging-basket fuchsias – which are in the genus Fuchsia and are native to the tropical Americas. Note too, that Leonhard's first name has an off-the-wall "h" stuck in there. So much for 16th century Germany!
Featured Photo Credit: Sarah Bryant, Tree of Life Nursery © 2016