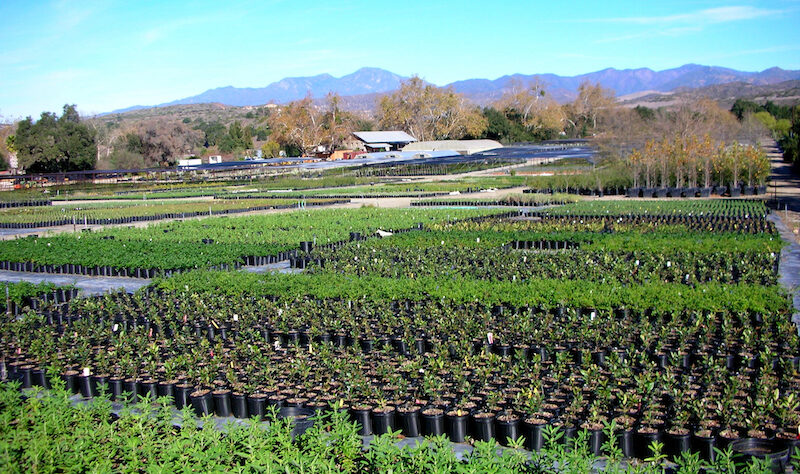 Thanks for reading these monthly essays about our history over the last 40 years. This series, to be published through 2021, tells our story of building a nursery, a business, and a lifestyle.
Essay #8, October 2021 – Mission, Values & Goals by Mike Evans
In this, our 40th anniversary year, certain members of our next generation management team rightly insisted that we produce, in writing, a statement regarding our company's Mission, Values, and Goals. Many companies and organizations complete this exercise at their founding, or at least very early in their existence, so they can continually refer to their own statements, weighing their decisions and actions accordingly. We never got around to it. It is not that we had no guiding life principles; more, we had simply not written anything down specifically pertaining to the nursery.
The founders of Tree of Life Nursery, Mike Evans and Jeff Bohn first met in 1979 at the introduction of a guy called Art Tyree, who had a knack for bringing like-minded Christians together. Jeff was in Ventura, Mike in San Juan Capistrano, and Art always appeared, seemingly out of nowhere. He must have felt that these two surfer dudes should get together. Both were recently married and each was trying to eke out a living growing plants and making landscapes for people in their respective hometowns. Over the next couple years, our common ground of beach, surf, family, plants, work, camping, California, and God found us forming a partnership that has passed the test of time. This we attribute to God.
We believe the bible to be the dependable, immutable source of truth. We know that it is the guide book for life, that business is just part of life, and thus we had the essentials of a mission statement in hand.
One advantage of waiting 40 years to write this stuff down is that, if we have been getting it right, we could just state the obvious, what we have been doing all along. And if we have been falling short somewhere, we could create new lofty aspirations and then try to get it right from here on out.
We run a nursery, so plants are pretty important, but by putting pen to paper (as it were) in this exercise, we realized their true significance lies in their (and our) relation to people and places.
The healing attributes of immersion in nature are well documented and have been part of our own life experience. Perhaps this is the most essential aspect of our passion for native plants and our deep desire to share it. We advocate frequent sojourns into quiet natural lands, and promote home gardens which can replicate those places and those experiences close at hand, in miniature. We especially enjoy when we hear from customers and colleagues just how well all this is working for them.
Mission
Provide inspiration, information, and all the goods necessary, especially high quality native plants, so people can experience nature's healing salve in their California gardens.
Values
People. Be respectful and fair to everyone; customers, staff members, suppliers, business colleagues, associates.
Places. Work to preserve, restore, beautify, and celebrate California's natural beauty everywhere.
Plants. Speak the language of California's native plants and consistently propagate, produce, and provide them to the benefit of people and places.
Goals
Promote gardens in attractive accessible settings that showcase the essence of California's natural beauty, so everyone can experience the authentic feel of our wild places.
There. We wrote it all down. Now we can look up and see if indeed our every move might be consistent with our stated mission, values and goals. For the next 40 years.