'Tis the Season to plant Natives and be Jolly!

We hope that amidst all of the mirth during this time of year that you are able to enjoy some time in your garden, planting natives during the peak of planting season.  We have many beautiful plants ready and waiting to find a home in your garden, and many tantalizing books and gifts available in our store for your friends and family.
Don't miss out!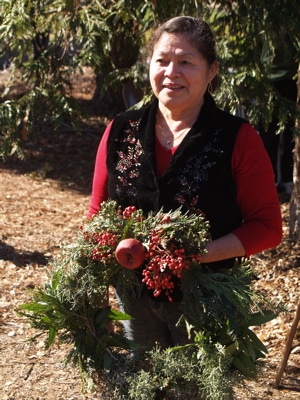 California Wreath Workshop, December 13, 9:30 AM
Join artisan Hilda Evans, Saturday, December 13 for a wreath-making workshop at Tree of Life Nursery.  Please call the nursery in advance to reserve your place for this immensely popular and fun workshop.  The wreath-making workshop cost is $25 per wreath.  Each participant will receive a California grape vine wreath base and plenty of native plant material to choose from.  Come and create a beautiful decoration that will look, smell and feel like California. We hope that you will join us December 13th for this delightful activity.
Next Week, Native Networking, Saturday, Dec 6, 2008 12 noon to 1:00 pm
We invite you, the friends of Tree of Life, to bring a lunch and meet up at the camp by the redwoods for a time to discuss some fun native plant topics together.  Come ready to share your experiences and to ask questions of one another.