Bug and Butterfly Walk
Saturday, August 3 8:30 am – 10:00 am
Rich Schilk and Laura Camp will lead a Bug and Butterfly walk at Tree of Life Nursery. After a brief look with Laura at a few easy native plants that will attract beneficial and beautiful pollinators to your yard, we will scour the nursery for unusual bugs and gorgeous butterflies. Rich will lead us in identification. We may even see a few birds along the way.
Recent preliminary results of a pollinator study, led by UC Cooperative extension scientists Lea Corkidi and Annika Nabors, showed that native plants received over twice as many visitors per minute as non-natives. It also showed that Tree of Life has vastly more diversity and abundance of native bees than other two sites in the study, due to our fortunate proximity to intact native habitat. We will visit the study area, and other planted areas around the nursery, in the best season to view butterflies. Wear a hat and sunscreen, and bring water.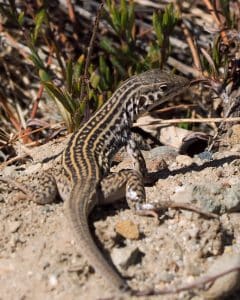 Attracting Amphibians and Reptiles to Your Native Garden
Saturday, August 10 9:30 am – 10:30 am
Your garden does not have to be a pristine wilderness to attract benificial creatures such as toads, tree frogs, salamanders, western fence lizard, and even the helpful gopher snake. They will come around and hang around if you have a naturalistic design, complimentary plant species, little or no disturbance (they don't like mowers and blowers), a water source, a few rocks, shade, leaf litter, diversity, etc… all the stuff that makes for a good native plant garden anyway. You plant it and they will come. Even alligator lizards. Join local biologist Bob Allen and learn how to identify these unique garden residents, and understand why they are "beneficial" as well as just plain cool to have around.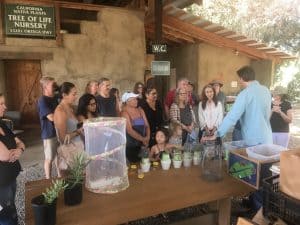 Busy Bugs
Saturday, August 17 9:30 am – 11:00 am
Dr. Leon's Insect presentation is always a hit, one of our most popular, family-friendly Saturday workshops. Come learn the important role natural gardens play in supporting diverse native insect populations, beautiful on their own, and supporting a myriad of other wildlife species. Learn how to build a healthy habitat with native plants and natural landscape features. During the show and tell portion of this workshop (insects, eggs, larvae, and diverse specimens in various stages of development) you will get a true "hands-on" experience.
Tortoise Time
Saturday, August 24 9:30 am – 10:30 am
Horticulturalist and Tree of Life's own, Kevin Alison, will detail garden design and plant selection of native plants for Desert Tortoise (Gophers agassizii). Before working at Tree of Life, Kevin learned desert ecology as a horticulturist at the Living Desert Zoo and Garden.
Habitat Gardening
Saturday, August 31 9:30 am – 10:30 am
Planting natives offers more than simply adding flowers and attracting showy pollinators to our yards. They are the foundation of larger local food webs and play a critical part in supporting all animals – insects, amphibians, reptiles, birds, and mammals alike – that call California home. As we continue to "develop" wild lands, it is of increasing importance that we use native plants in our gardens and other landscaped areas to create a functional habitat that mimics nature. Join us for an engaging discussion on the importance of habitat gardening and how you can use your garden to create habitat for native fauna.