FOR IMMEDIATE RELEASE
MAY 26, 2011
Twilight Thursdays at Tree of Life Native Plant Nursery's Casa 'La Paz'
Tree of Life Native Plant Nursery and California bookstore – Casa 'La Paz' – premiers a new evening educational series during lengthened hours on Thursday evenings in July and August.
San Juan Capistrano, CA  – May 26, 2011 – Tree of Life Native Plant Nursery is expanding retail hours until 8:00 pm on Thursday evenings during July and August, 2011.  Moderated panel discussions will take place from 6-6:30 pm with special guests and topics centered on California, the outdoors, sustainable landscaping, and more.  Additionally, all merchandise in the retail store will be discounted during the "Twilight" hours from 4 pm – 8:00 pm.
A "program" – Twilight Thursday Thoughts (6:00-6:30 pm) will feature short discussions and an open mic.  Each night will be focused on a predetermined theme with invited guest speakers.  Also, participants can individually share their knowledge in five minutes or less.  Each session will be moderated by a Tree of Life staff person who will bring additional resources to the discussion.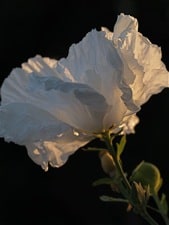 Long known for passionately educating the public about native plant landscaping and "all things California", Tree of Life Native Nursery seeks to encourage learning and sharing by making the nursery available to the public for longer hours during the summer season.  
"Many people find it difficult to make it out to the nursery during the work day," says co-owner and founder, Mike Evans.  "We are seeking to build a real community by allowing people to share their valuable experiences related to California and the outdoors.  We also want to give people a convenient time to get plants and books, and allow them to enjoy our peaceful grounds during twilight.  There's no other place quite like it in South Orange County!"
The opening night for Twilight Thursdays will occur on Thursday July 7, 2011.  The public is encouraged to contact the nursery via its website or Facebook Page for details on topic consideration and participation.

Tree of Life Native Plant Nursery grows a high quality line of over 500 species and varieties of California native plants for landscaping and ecological restoration.  Located in San Juan Capistrano on the historic Rancho Mission Viejo, the 40-acre nursery is the largest of its kind in the state.  Tree of Life Native Nursery provides the means by which Californians can work together to return our precious flora to the land.
Contact
Tree of Life Native Plant Nursery
www.CaliforniaNativePlants.com
phone: 949-728-0685
fax: 949-728-0509
contact: Debbie Cressey, inquiries@californianativeplants.com