Habitat Gardening Series
Join us this September for a series of talks on habitat gardening. Learn how to attract and support a variety of beneficials in your native garden! All workshops are free and begin at 9:30 AM, no registration is necessary.
Saturday September 10

Attracting Amphibians and Reptiles to Your Native Garden
Biologists often look to what are called "indicator species" when they assess the health of a particular habitat or a plant community. While we believe that the OC will not be fully functional as a self-sustaining ecosystem until the ol' griz roams wild again, we also realize that those days may never come… though we do try to hone our survival skills by pretending to be ultra wary on the trail. So much for the best indicator species we ever had, Old Griz. so much for the healthy fear he (or especially she) would (could?) instill in birdwatchers and hikers. Deb says she's still waiting for a mother and cub to move into her yard…
Where was I?… Oh yeah, "indicator species." On a more understandable level, critters as mundane (no offense to them intended) as toads, tree frogs, salamanders, western fence lizard, gopher snake… and the less mundane, very elusive newt are only found in decent habitat. Your garden does not have to be a pristine wilderness, but you can expect these guys to come around and hang around if you have a naturalistic design, complimentary plant species, little or no disturbance (they don't like mowers and blowers), a water source, a few rocks, shade, leaf litter, diversity, etc… all the stuff that makes for a good native plant garden anyway. You plant it and they will come. Even alligator lizards.
Join local biologist Bob Allen and learn how to identify these unique garden residents, and understand why they are "beneficial" as well as just plain cool to have around.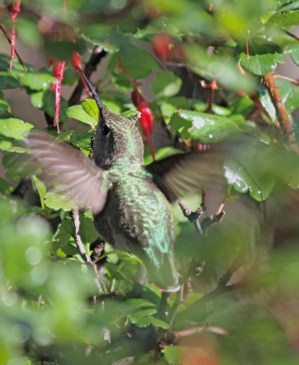 Saturday September 17
Natives for Hummingbirds
Hummingbirds and the plants they love. Join Tree of Life Nursery's Laura Camp and learn about our western hummingbirds, and how to design your garden to include the gorgeous native plants that attract and sustain them. You'll leave with the knowledge and inspiration to transform your garden into a native sanctuary for our local and migratory hummingbirds.

Saturday September 24
Gardening for Butterflies and Moths
Join Dr. Leon Baginski as he shares the joys of habitat gardening. Native butterflies and moths are facing dwindling numbers due to habitat loss and degradation. Come learn how to make your garden a beautiful and welcoming environment for our native butterflies and moths. Dr. Leon will go over the native host and nectar plants that attract and support them so your garden can be a sanctuary for you and these beautiful beneficials.
The Replace Your Lawn (RYL) Series will begin Saturdays in October to kick off the planting season!
October 1 – Planting Season Kick-off!
        – 10% off plants and opportunity drawings throughout the day!
October 8 – RYL I: Design Basics with Pat Overby
October 15 – RYL II: Creating and Caring for Your Native Garden with Barbara Eisenstein
October 22 – RYL III: Plant Selection and California Native Plant Society Membership Day  – Orange County and South Coast Chapters
October 29 – RYL V: Tour of Nursery Gardens