The Replace Your Lawn (RYL) workshop series begins July 9.
All Saturday workshops start at 9:30 AM.
Saturday July 2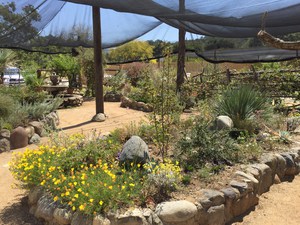 Tour of Nursery Gardens
Come get inspired for your landscape project by seeing beautiful native plants in our nursery gardens. We will lead a tour of the nursery gardens and provide insightful discussion about how to get started with native gardening. On the tour you will be inspired by our mature native plantings, by seeing some of our newer plantings and by our extensive knowledge and abundant enthusiasm.
Saturday July 9
RYL I: Kill Your Lawn
The first step in transitioning to a more sustainable garden is removing your water hungry lawn. However, killing your lawn can be more involved than you would expect (depending on the type of grass you have) and the methods to get rid of a lawn are quite varied.  Avoid unnecessary labor and learn several successful methods for lawn removal, depending on your turf type, budget, and timeline. Join Colin Dunleavy as he gives this practical, easy-to-follow talk about how to remove your lawn to make way for a fresh and more sustainable landscape.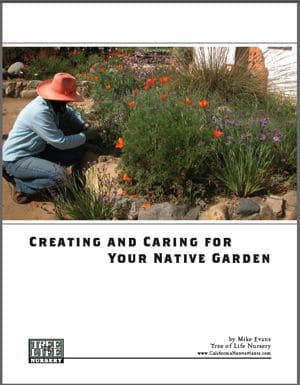 Saturday July 16
RYL II: Create and Care
Now that you have killed your grass, and you are working on your design, what are you supposed to do? Tree of Life Nursery owner, Mike Evans will share from our booklet, "Creating and Caring for your Native Garden," that you can download here: 
Creating and Caring for your Native Garden. Bringing his over 35 years of experience with these plants, as well as just as many years of site-prep, initial irrigation techniques and working with tricky landscape situations, Mike will teach you how to create a thriving and enjoyable native garden. As he has mentioned to us for years and years: "Maintenance is what you do for your car, you CARE for your plants!"
Saturday  July 23
RYL III: Design Basics – My Avant Garden
You've removed your lawn – now what?  We make it easy to take the next step!  Learn how to create a My Avant Garden pre-planned native garden. This new 5 step program created by My Avant Garden and Tree of Life Nursery will help take the guesswork out of designing your native garden!  We'll show you how to read the detailed installation plan provided with the kit, give insight into the plant selection for each garden, offer guidance on nurturing your garden through the important establishment phase and introduce you to capturing rainwater for a truly resilient California native garden.
My Avant Gardens are designed to replace thirsty front yards with beautiful, low-water gardens.  All the information and guidance you need for success has been assembled into one convenient package.
Saturday July 30
RYL IV: Selecting the Right Plant(s) for Your Yard
How do you narrow down your plant list? Or where do you even start? Take the first step and join us for this informative discussion. Summer is the perfect time to start planning your garden and identifying its' challenges. Tree of Life's Alisa Flint will lead a discussion on how to plan for a successful garden by selecting appropriate plants for your location and garden desires.  She will also cover a variety of garden challenges many of us face (i.e. erosion, small spaces such as a patio, privacy or super clay soils) and recommend plants that can be both functional and beautiful.
Photo: Sarah Bryant, Tree of Life Nursery ©