Tree of Life Nursery plants and staff will be at a variety of events around southern California this spring selling plants. If you can't make it down to visit us, be sure to catch us at an event near you!
Thu-Sun April 27-30
South Coast Spring Garden Show
When:
Thu April 27         10AM-9PM
Fri April 28          10AM-9PM
Sat April 29          10AM-8PM
Sun April 30         11AM-6:30PM
Where: 3333 Bear Street, Costa Mesa, CA 92626
Crate and Barrel/Macy's Home Store Wing
– 10 display gardens, 50 garden vendors, children's activities and more!
– Tree of Life plants and butterfly boxes will be for sale at the OC Califonia Native Plant Society (CNPS) booth
– Complimentary parking and admission
Saturday April 29
Pop Up Sale in Fullerton – Canceled
CNPS Plant Sale – San Diego California Native Plant Society together with the Cuyamaca Water Conservation Garden
When: 9AM-3PM
Where: The Water Conservation Garden
12122 Cuyamaca College Drive West
El Cajon, CA 92019 United States
– There will be a variety of native shrubs, trees, and flowering plants from Tree of Life as well as seeds, books, and posters!
– Native plant experts will be on site to assist you with plant selection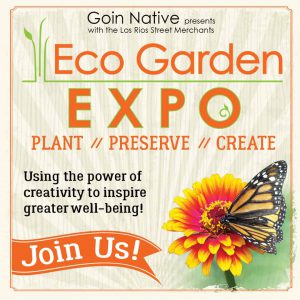 Sat-Sun May 6-7
Eco Garden Expo
When: 9AM-4PM
Where: Los Rios Park &Historic District
26436 Paseo Adelanto
San Juan Capistrano, CA 92675
– Tree of Life Nursery and Mountain States Wholesale Nursery will be selling a variety of California and southwestern native plants
-Speakers including Tree of Life owner Mike Evans will be giving talks on a variety of gardening and plant topics – click here for full speaker schedule

Sat May 20
Santa Margarita Water District Water Festival
When: 10AM-2PM
Where: SMWD Headquarters
26111 Antonio Parkway, RSM, CA 92688
– Water efficient irrigation and native plant displays
-Landscape workshops focused on low water gardening
-Kids' activities and family friendly events throughout the day
-Tree of Life Nursery will be tabling alongside My Avant Garden to answer your native plant questions!

Featured photo: Sarah Bryant © Tree of Life Nursery 2016