The "Replace Your Lawn" (RYL) Workshop Series repeats this March!
All workshops start at 9:30 am on Saturdays unless otherwise noted.

Saturday March 26
9:30 AM – RYL III: Caring and Creating for Your Native Garden
Now that you have killed your grass, what are you supposed to do?  Tree of Life Nursery owner, Mike Evans will share from our booklet, "Creating and Caring for your Native Garden," that you can download here: 
 Creating and Caring for your Native Garden.  Bringing his over 30 years of experience with these plants, as well as just as many years of site-prep, initial irrigation techniques and working with tricky landscape situations, Mike will teach you how to create a thriving and enjoyable native garden.  As he has mentioned to us for years and years: "Maintenance is what you do for your car, you CARE for plants!"  ~~ Past Events ~~

Saturday March 5
9:30 AM – RYL I: Plant Selection – Spring Bloomers
Designer in Residence Susan Trindle will highlight what to plant for the spring blooming season and how to combine different plants for pleasing year-round enjoyment. Come learn about what's currently blooming and what will soon be blooming. We'll discuss plants that attract beneficial wildlife like bees, butterflies and songbirds. We will discuss the care these plants require for their whole lifespan – from transplantation through many years of beauty and enjoyment. Join us for this informative and practical discussion. To get your creative juices flowing for plant choices using this list: 
Spring Bloomers.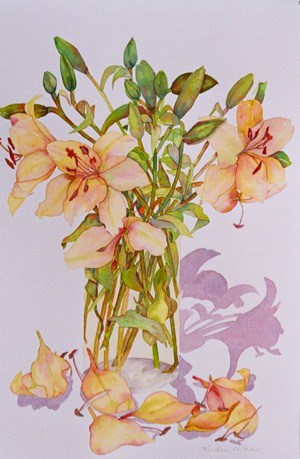 1:00 PM – Watercolor Workshop
Join artist Christine McCowan at Tree of Life Nursery for a unique 2-3 hour watercolor workshop! Participants will paint a California native plant still life of their choosing. ​The workshop will focus on ​creativity​, ​​style ​and technique in ​watercolor painting through ​the use of ​color, design, and composition. Following a short demonstration,​ each person will have a turn ​to have​ f​​​​un​ with the paints, with continuing instruction from Christine. All skill levels welcome. Cost – $50 per participant.
Click here to register!
Saturday March 12
9:30 AM – RYL II: Design Basics – Interactive Native Landscape Design
Designer in Residence Ryan Serrano will present strategies for developing interactive and functional landscapes using beautiful native plants that do more than just look pretty. Deepen your relationship to place with edible, medicinal, and useful native plants that you can enjoy both at home and in the wild!
Ryan Serrano is a designer, builder and teacher specializing in regenerative development and homesteading practices. His work with California Native plants is heavily influenced by his passion and experience developing food productive and social spaces.
Saturday March 19
OC Friendly Gardening Fair – 9AM – 2PM
OC Friendly gardens are drought tolerant gardens that save water, look beautiful and reduce runoff that can pollute our beautiful coast. At this special event, various organizations and companies will be at Tree of Life Nursery to educate you in current programs available to assist you in saving water. Attendees include the Municipal Water District of Orange County, OC Stormwater Management, the UC Cooperative Extension program, and the City of San Juan Capistrano. Speaker David Bainbridge will kick off the day with a talk on Gardening with Less Water at 9:30 am!
9:30 AM – David Bainbridge – Gardening with Less Water

Join Author David Bainbridge to learn why and how to use more efficient irrigation systems in your garden, yard or containers. Ollas, clay pots, porous capsules, wicks and other systems use simple materials but can cut water use 90% with below surface irrigation – while increasing yield, plant health, and reducing weeding and maintenance time! There will be an opportunity drawing for a free copy of the David's new book, Gardening with Less Water, at the end of the workshop. Gardening with Less Water will also be available for purchase and David will be signing copies following the talk!

April Preview
April 2, 2016
Hike with Mike
Join Tree of Life owner Mike Evans on an adventure into Caspers Park

April 9, 2016
Soils Class – Get the Dirt on Soil!
Speakers: Mike Evans and Bob Allen
April 16, 2016
1:30 PM – How to Draw Nature
Sharpen your observational and drawing skills with artist Sama Wareh
April 16 – 24, 2016
Native Plant Week!