Registration is now full.
Join us for our first ever Design Camp Saturday, August 19!
This is a five-hour interactive workshop where participants will receive general instruction on principles of design and art, with a focus on authentic, sustainable natural gardens using California native plants and appropriate materials. We will help you identify and prioritize your needs for your outdoor space and provide ideas on how to design with these priorities in mind.
In addition to group instruction, participants will work in a group setting with individual, face-to-face assistance from the instructors. Each participant will develop their own garden narrative, identify the materials they will use, design the entire garden using a watershed approach, plan for each special use or purpose, and make a plant list and planting plan. Essentially, each student will have their own working landscape plan at the end of the five hour session.
The Design Camp – Half Day will be held at Tree of Life Nursery under amazing old coast live oaks and giant sycamores to shade and inspire, however be prepared for warm weather. Morning refreshments will be provided. Each participant should bring their own lunch. We have a refrigerator, microwave, toaster oven, coffee, and utensils here for your convenience. We will always be out of the sun, but bring your own hat and water bottle. We have plenty of good drinking water for refills.
When: 8:30 AM Saturday, August 19
Where: Tree of Life Nursery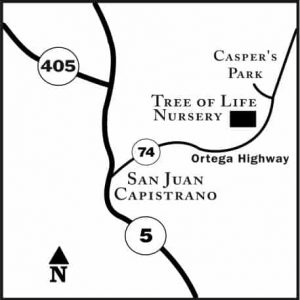 33201 Ortega Highway, San Juan Capistrano, CA 92675
Cost: $120 per landscape plan – up to two participants
*Early bird registration is $100 before August 1*
Materials – for this workshop you will need to bring the following:
– A to-scale drawing of your yard – showing dimensions, features, existing trees, etc.
– Photos of your yard from many angles – please note sunlight conditions at different times of the day
– Photos, magazine cut-outs, graphics, plant list, examples of model gardens ideas
– Notebook, paper, pencils, ruler
Be sure to sign up early for for this unique workshop taught by Landscape Designer Jodie Cook and our own Tree of Life Nursery Founder and President Mike Evans.
Questions? Email inquiries@treeoflifenursery.com or call 949-728-0685. See you at Camp!